Last year, balconies made it into Rightmove's top ten searched-for features for the first time. Do you have one? We find out how to make this added outdoor space work for you…
When our new-build townhouse at Springfield in Chester-le-Street sold in just five days this Spring it was not hard to work out why this property was such a winner. It wasn't just the exclusive nature of this seven-home gated development in the centre of town, it was the beautiful balconies overlooking the pretty Chester-le-Street cricket ground that really made this development such a sought-after address.
And our buyers are not alone in their love of all things balcony-related. As we edge out of lockdown, more buyers than ever are looking for their forever home and with so much time on our hands we are not short on inspiration. From Pinterest and nearly 4 million instagram #balcony hashtags to tears from newspapers and magazines we know want we want and it would seem that pretty near the top of the list is a balcony.
But where did this trend come from? Outside of our big cities we would traditionally expect to see these outdoor spaces being turned into genuine living space rather than an architectural extra. But after a year of lockdowns across the globe, it looks like the trend – in particular a new interest in Winter Balconies – has trickled over to the UK from Northern Europe and turned the idea of the balcony as a space only to be used in the warmer months on its head. Think snuggly throws, candles and squishy sofas and a space that can be enjoyed year-round.
Top 5 ways to personalise your balcony space
1 MAKE IT MULTI-PURPOSE Pick an original set of furniture to fit the space that will work year-round then add textured cushions and throws for the colder months. Ikea has a great collection of basic chairs and sofas that can be brightened up with outdoor cushions for Spring and Summer before becoming cosier spaces with the addition of blankets and fur throws for the Winter. The site even has a dedicated balcony ideas section for anyone looking for more inspiration. Dunelm has a selection of indoor/outdoor rugs like this Casablanca Monochrome Runner for just £39, a chic and affordable way to create a relaxing living area outdoors. Next also has this Indoor/Outdoor Recycled Borra Tufted Geo Cushion which feels soft but is made from 100% recycled plastic bottles and is incredibly hard-wearing. Don't forget the lighting – these Solar Caged Bulb String Lights from Sainsburys are our favourites – £25.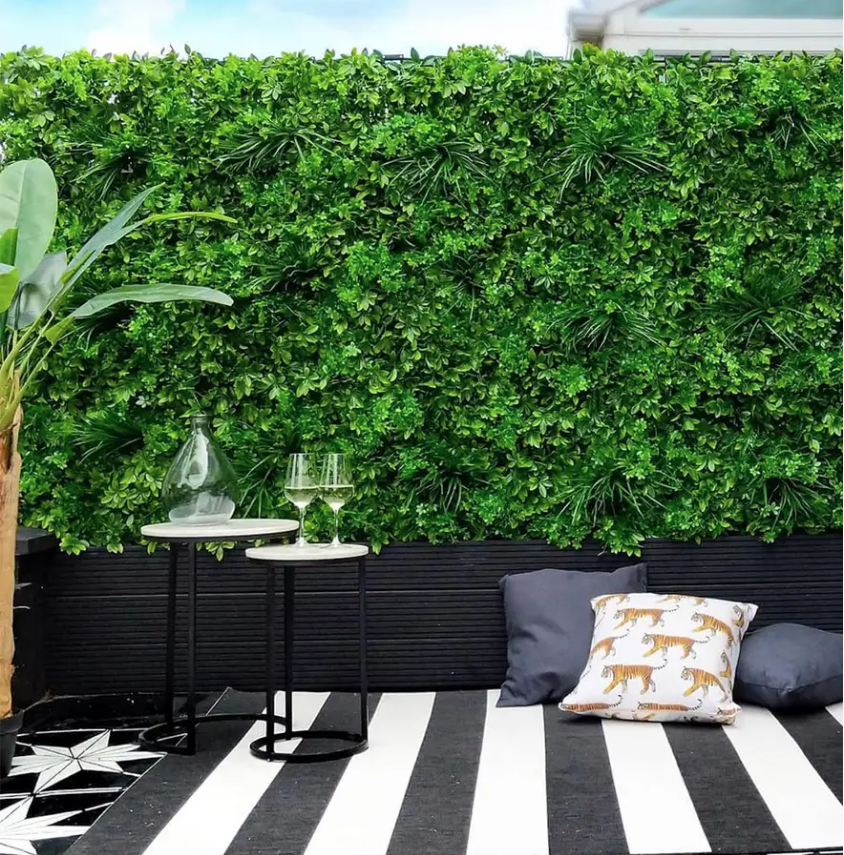 2 PLUMP FOR THE RIGHT PLANTS. Firstly, what do you want the plants to achieve? On one side, you could have something tall for privacy, like a palm tree or even a small hedge, but you could also add another area for a mini kitchen garden with plants and herbs. The maximum weight load of the balcony needs to be considered before installing large, heavy planters. Think about how much maintenance you want too and whether artificial plants might be better. Blooming Artificial has a huge range of options including space-saving and realistic artificial living walls like the one pictured, available in individual tiles to fit any size wall.
3 SOUP UP THE STORAGE POTENTIAL. Most people focus on how their balcony is going to look, both to them and the outside world, but don't forget the untapped storage potential. Chairs, benches, tables and sofas all come in options with storage space and a tall narrow shelf down one side could double up to provide privacy as well as stacking space. We like this Hugh Wood Storage Bench, £179 from Wayfair.
4 USE THE VIEWS. It is easy to forget that the primary purpose of a balcony is to maximise the light and views of the surrounding area so don't forget to consider this when you arrange the furniture. Think about the most comfortable piece of furniture that you have and arrange it with the best view in mind. Also consider what the views are and try to make your space complement them. Clean, modern pieces as in this IKEA-designed space work perfectly in a city high-rise whereas a suburban townhouse with a greener vista can take a bit more pattern or even chintz (a huge trend for 2021 courtesy of the current 90s resurgence).
5 Be Brave. Even if you're someone who feels safer with neutrals, a balcony could be the perfect space to experiment with a pop or two of colour. Blues and greens are a good place to start as they mirror nature and affordable accessories such as throws and cushions will allow you to experiment without blowing the budget. These cotton scatter cushions from Marks and Spencer will add instant and affordable colour, and this mini checked throw from Dunelm folds up small for easy storage and is a doddle to wash and dry.