The shops might have reopened today but for many of us working from home is here to stay and we are bored, bored, bored of our tired-looking home offices. So why not put your release back onto the High Street to good use and breathe some life back into your workspace? The three 'W's are a good place to start. Think walls, workspace and windows.
Walls
Dark colours will add depth to the room but they won't do you any favours as a Zoom call backdrop so keep them light and bright and use pictures to add pops of colour instead. Next at the Arnison Centre has some great options cleverly curated into groups for you if creating a "look" yourself is a bit intimidating. Just pick a colour scheme and hang them as suggested for a super stylish feature wall. Other local hotspots for affordable wall art now back open include TK Maxx, Dunelm, The Range and Asda Living, and as so often with interior decor, it is possible to shop online but much easier (and more enjoyable) to navigate up close.
Things to avoid for office walls include mirrors – great for reflecting light but not ideal for a calm working environment and potentially troublesome as a video call background. Also the ever-so-popular inspirational quote prints can be distracting when seen on screen so keep these facing you rather than in visible behind you. The same goes for controversial reading material or too many personal items.
Workspace
Desk-wise, clutter is always best avoided but can be hard to keep on top of when sharing spaces with family. Tidying queen and minimalist hero Marie Kondo swears by an empty desk with nothing but a laptop when she is working. Her new Kon Mari book Joy at Work, currently available at Waterstones Durham, takes us through the benefits of keeping on top of our workspace for maximum professional gain. Working with psychologist Scott Sonenshein, Kondo has a no-nonsense approach to work space management. Her top tip? If you don't have a designated office, don't worry. Just get a pretty box and fill it with everything you need from your laptop to ornaments that "spark joy". Then set up your workspace wherever you need to. This way you can start and end your work day by packing and unpacking the box. Practically and psychologically, this is a winner. Habitat at Sainsburys have some lovely options including this Idaho Bamboo Weave Trunk, £40.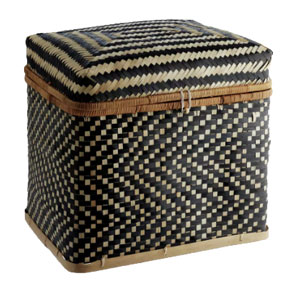 Kondo also suggests lighting a candle or chiming a tuning fork to start and end your day but this might be a step too far for some. Ikea is the obvious place to go for home storage inspiration as well as small and affordable desks to fit tricky spaces.
Windows
Let there be light, as they say. Not everyone has the luxury of a window or the opportunity to look at some green space, but if you do, maximise your exposure to the great outdoors while you're working. The benefits of light and nature for our mental health are well-known so if a garden view isn't an option pick some fresh flowers (nothing fancy, anything will do) and place them on your desk or nearby. Plants are another affordable option to freshen up your workspace as well as oxygenating the air around you. Or if you want to keep it even more simple, grab some pretend plants for a splash of colour with no watering required.